Cutting tools for alu, plastics and wood.
As a specialist for cutting tools the Junget Tools Division can offer you everything within standard, specialized and customized tools for the aluminium, plastics and woodworking industry.
Junget has its own production of tools and is also the sole distributor of Leitz Tools, known for high end tools as well as their expertise within profile and planing tools, blades and plates. Our assortment is not only comprehensive. It also complete. We have all tools you need for the job you want to do. Whatever you need blades, mills, drill bits, planers - we have them.

You will also find a wide range and accessories like chip suction, measuring tools or holding tools in our standard assortment. Accessories of well-known brands and manufacturers. At Junget we give our customers competent and professional advice based on many years' experience in selling and manufacturing tools.

We are always looking for new tooling solutions which lead to optimizations in our customers production. We have proved many times that the right tool can increase productivity significantly.
We kan modify any kind of type of tool and maintain your tools for a longer lifespan. We'd love to visit you for a talk about tools.

The Junget assortment for the aluminium, plastics and woodworking industry consists of:
Saw blades
We offer a wide range of saw blades. Our assortment includes HSS, carbide and diamond blades. No matter which blade you need, or whatever material you need to cut. We have the blade you need.

Drill bits
Jungets complete assortment of any carbide and HSS drill bits means we can offer you any type of drill bit. Step drills, dowel drills or ordinary drill bits for aluminium, plastic or solid wood. We can also make any type of custom drill bit for your need.
Milling bits
We also offer a wide range of standard milling bits with or without profiles. We sell all types of milling bits like grooving cutters, radius cutters or jointing cutters. If you need a customized cutter we can make it in our tools work shop in Hinnerup
Diamond tools
In recent years the demand for diamond tools has been increasing. Today we have a comprehensive assortment of diamond tools for any type of task in MDF, chipboard etc.

We at Junget are looking ahead when we give advice to our customers, and if we think that diamond tools are the most cost efficient in the long run, we will advise you to choose diamond tools. Diamond tools is the obvious choice when tool lifetime is crucial.

Planing tools
A wide selection of planing tools enables us to offer you the right tool for your machine and the material you're working with. In our assortment, you will find Variplan planing heads and knives or the Leitz Riptec series of special tools amongst other tools to improve your production.

Standard and profiled inserts
Profiled inserts, reversible knives or radius inserts have infinite possibilities. We offer a wide selection standard and profiled inserts and we can also produce customized solutions in our own tool production.

Manufacture of special tools in HSS and solid Carbide
Junget has its own design office to draw and subsequently produce complex tools even from a hand drawn draft.
Junget is in control of the details due to some of the best tool designers of the trade. The possibilities of customizability are endless, and we never make any tool without your final approval!
Our cooperation with the design office enables us to give you products and delivery times to meet your needs.
Our tools are made of materials like High Speed Steel and solid Carbide, or tippet with Carbide or Diamond (PKD). Our well-educated staff is producing the cutting tools on modern CNC machines.
Contact Junget?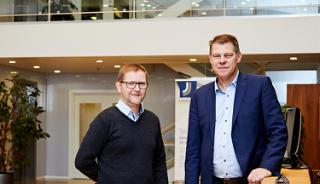 Please feel free to contact Junget:
Opening hours
Monday - Thursday
7:30 - 16:00
+45 89 36 55 00
junget@junget.dk